The Best Living Room Window Treatments In Raleigh
Many Raleigh homeowners utilize their living rooms for formal entertaining, others for family play and relaxation. Either way, the best window coverings will create an area that is more appealing and comfortable. Smart choices like Roman shades, plantation shutters, and cellular shades bring another level of style and block unwanted glare and drafts.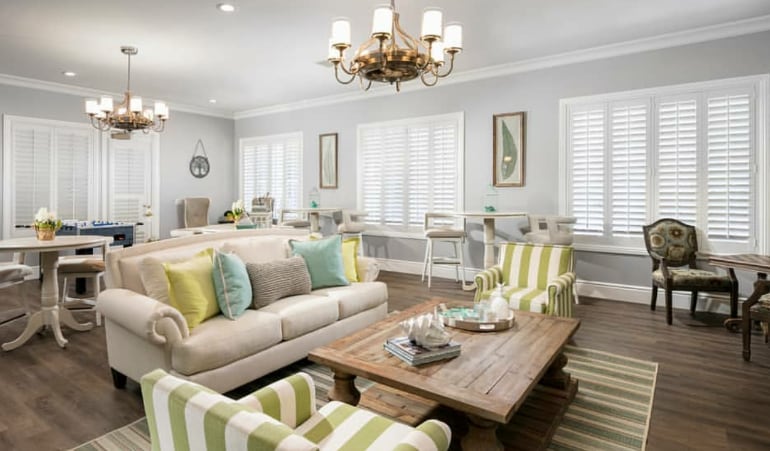 Plantation Shutters Are Great for Light And Temperature Control
For most Raleigh residents, the living room is used as a multifunctional area where they play games, entertain friends, and relax after a long day. Versatile plantation shutters can help everyone enjoy your living room. Composite Polywood® shutters and 100% wood shutters are sturdy and easy to clean for families with small children and dogs but stylish enough to impress guests. The wide louvers create a design focal point and require only a simple wipe with a cloth to remove dust and fingerprints before visitors arrive.
The fully adjustable slats also let you control natural light in your living room. If you're not looking for full sunlight, close the shutter panels and adjust the louvers to direct glare out of the view of your visitors or off the TV screen. Or shut them completely during peak sunlight hours to keep your space comfortable.
If your home is like others, you have a picture window, bay window, or other large windows in the living room. These let in the sun's heat and cold drafts. While picturesque, they are known for letting in the sun's heat and windy drafts. They add appeal but also let in heat and drafts that elevate your energy costs and impact the comfort of your room. When looking for the most efficient living room window treatments in Raleigh, install faux-wood plantation shutters. Polywood® composite materials minimize the impact of drafts and the sun's heat better than other products to create a pleasant interior environment for your daily life.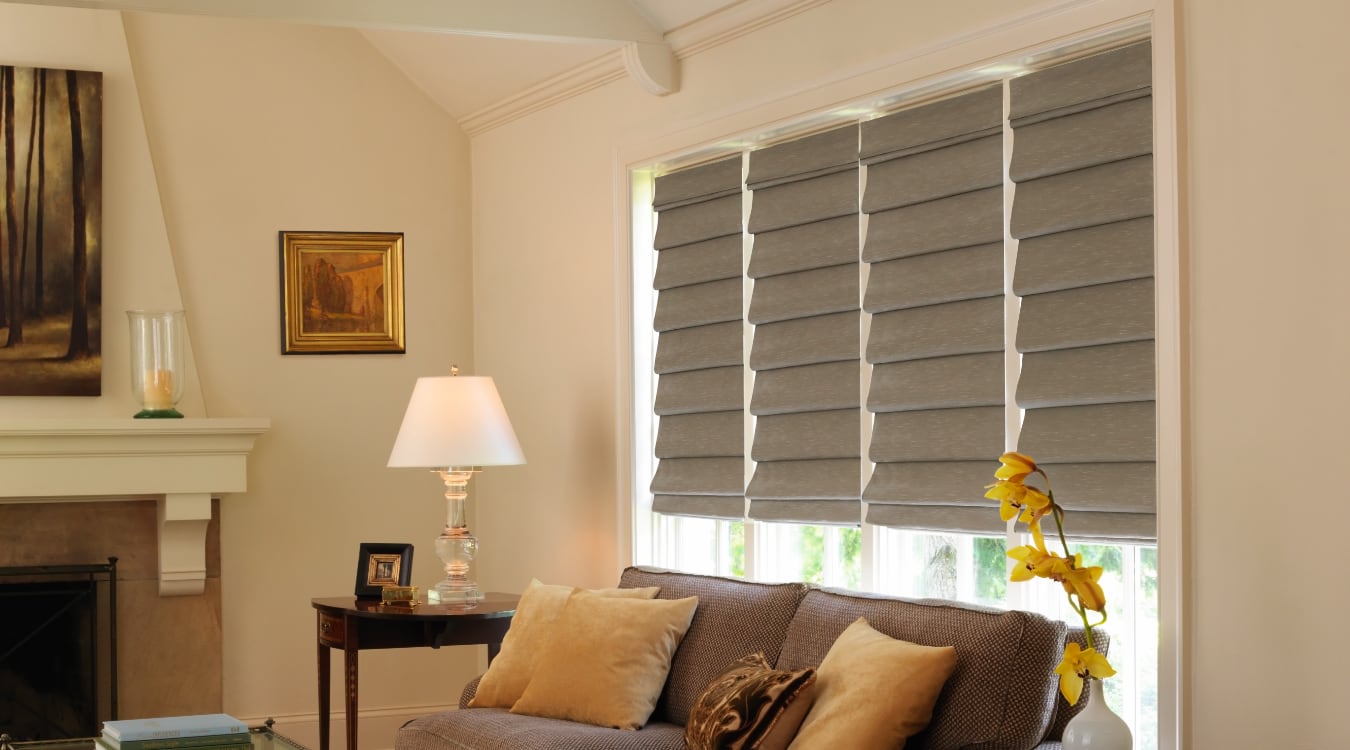 Roman Shades Offer Enhanced Style And Function
Depending on your design preferences, you may want more colorful window treatments not found in other rooms. Keep in mind, there's no need to sacrifice function and easy operation. You can get a truly remarkable choice with attractive Roman shades.
When you open Roman shades, the material gathers horizontally but without requiring tie backs like traditional curtains. Instead, Roman shades move easily with a lifting mechanism that can be corded or cordless. You can also select motorized options so you don't have to interrupt a conversation to raise or lower the shades can raise your shades together with the touch of a button. You don't have to step away from your guests to lower a shade. You can find Roman shades with a multitude of fabric, color, and hardware options to blend seamlessly with the design of your living room.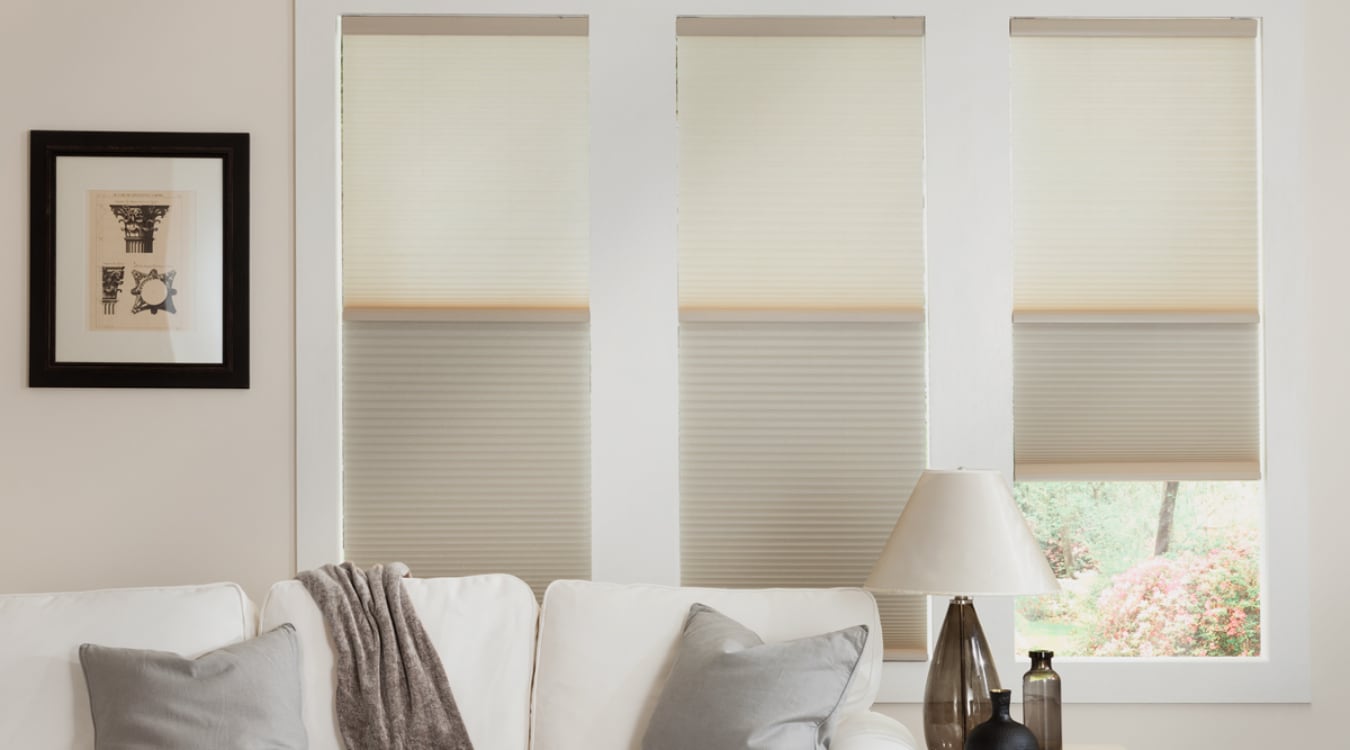 Cellular Shades Boost Your Home's Efficiency
Another preferred product for efficient living room window treatments in Raleigh are cellular shades. The built-in fabric compartments capture air to stop drafts within your space. This important feature will help you stay warm when you're relaxing on a chilly winter afternoon on the living room couch and keep you cool in the summer when you're entertaining a full house.
When considering cellular shades, don't loose sleep about them being too boring for your decor. They come in a range of pleat sizes, textures, and colors to fit your interior decorating scheme. You can also choose between blackout or transparent materials and everything in between to accomplish your goals of natural light and privacy. For added convenience and functionality, check out shades that let you open them from the top for sunlight while maintaining coverage on the lower half for privacy.
Time to Upgrade With The Best Living Room Window Treatments In Raleigh? Talk To The Experts At Sunburst Shutters Raleigh
Add comfort, efficiency and style to your Raleigh living room with quality window treatments from Sunburst Shutters Raleigh. Our consultants will answer your questions and offer tailored suggestions for your living room. To request a no-obligation, free appointment in the comfort of your home dialreach out to 919-887-9198 or submit our contact form.