Dining Room Window Treatment Designs For Raleigh Home
Dining rooms are a place for family and friends to get together in your Raleigh house. And most dining room windows let in light from outside and some of the scenery. But when what you're looking for is more privacy without giving up beauty and energy efficiency, which window treatment works best in your dining room?
Here are some dining room window treatment ideas to help you choose.
Plantation Shutters For Dining Rooms In Raleigh
Plantation shutters are a stylish dining room window treatment. Their louvers are manufactured with function and elegance as the focus. They allow you maximum control over light and view. Tilt the shutter louvers with a tilt rod to let in just the right amount of light and view. And throughout winter, shut these dining room shutters completely for energy efficiency.
The best thing about plantation shutters is that they can be custom crafted to the exact curves and angles of your window. No matter what the shape of the window is: a triangle, circle, octagon, or arched. Dining room shutters can be made to fit your window seamlessly. Read more on special shaped shutters.
Set the table for dinner with family in front of your pick of Polywood® or Ovation® wood shutters. Polywood shutters are made from a patented synthetic material that will never crack. Not to mention, Polywood is the most energy efficient window treatment. And that's key when it comes to larger dining room windows. Ovation shutters are built from solid hardwood and come in 28 stains to complement your furniture.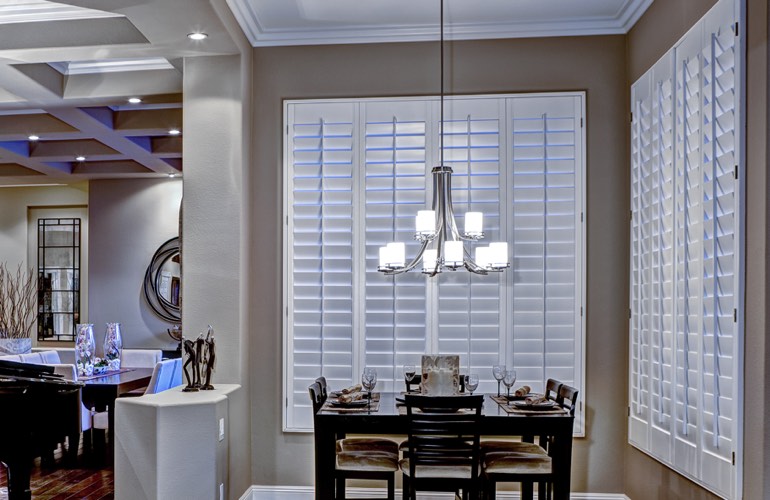 Photo credit Jane Cunningham www.roomresolutions.com
Sliding Barn Doors For Dining Room Windows In Raleigh
Installing sliding barn doors is one of the newest trends in home decor in Raleigh, NC. And now you can have them installed on your dining room windows!
If the windows in your dining room have space on both sides, sliding barn doors are the contemporary window covering for you. When closed, they are a masterpiece of fine craftsmanship. When opened, sliding barn door shutters frame the view outside your dining room window charmingly. And with a selection of hardware options to choose from, you can match your barn door shutters to the decor of your dining room. Read more on sliding barn doors for windows.
Shades For Dining Rooms In Raleigh
Shades are a traditional dining room window treatment. They're simple to mount and operate. And you can choosefrom a collection of fabrics and patterns so your shades match the style of your dining room.
However, this customization may come at the price of brightness and climate control. The fabric the shades are made of may not best for blocking out the light effectively. And the material may be thin enough that it won't deflect the impact of the natural elements.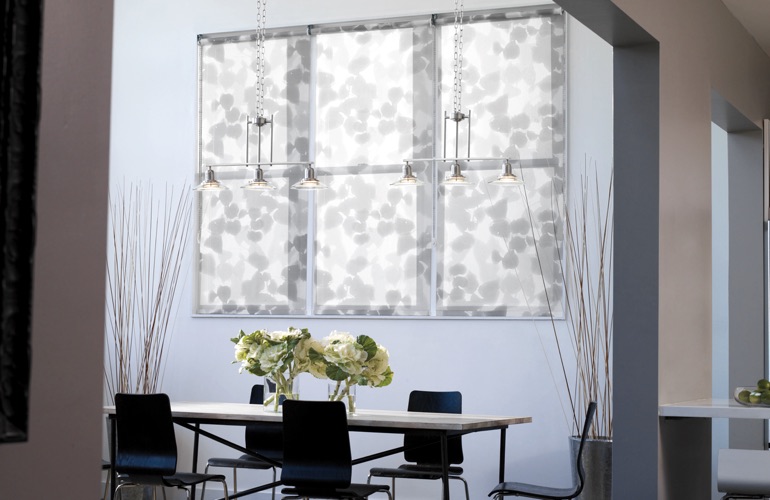 Looking For More Dining Room Window Treatment Ideas In Raleigh, NC?
Scroll through our idea gallery of window treatment images we've mounted in the Raleigh area. And when you're ready to order dining room window treatments or window treatments for other places in your home, our specialists will set up a time to come out to your residence and show you window treatment samples of the products you've been eyeing. We'll also take careful measurements of your windows. This way, when we mount your brand dining room window treatment, it is charming and operates seamlessly. Contact us at 919-887-9198 or fill out the form below to schedule your free in-home design consultation today!