4 Home Office Window Treatment Ideas In Raleigh
When you have the right environment in your home office, you are driven, relaxed, and can focus on your work. Perhaps you already have the perfect desk and furniture, but have you thought about your windows?
Learn about four window treatments for your home office in Raleigh that create the perfect atmosphere for your office so that you can be more productive.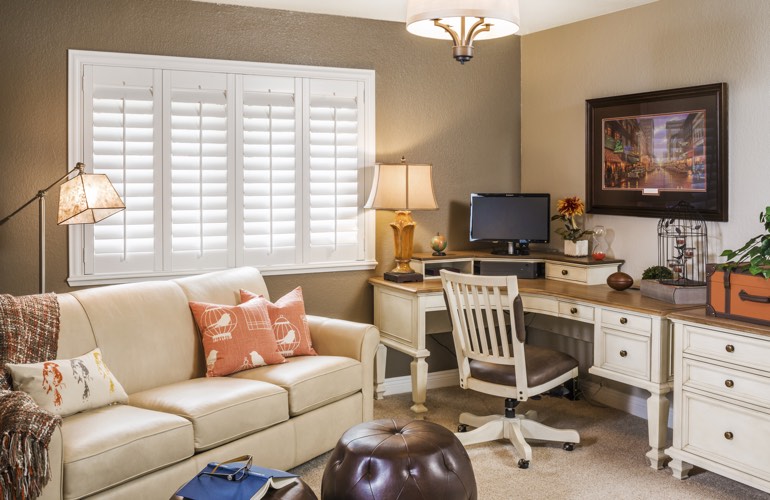 If you want a home office window treatment in Raleigh that reduces distractions, looks beautiful with any décor, and is durable enough to last for decades, then think about getting plantation shutters.
Reduce distractions and stay focused on your work with our Polywood® plantation shutters. They dampen outside noises and let you easily adjust the light. Simply adjust the louvers to switch from open shutters that fill your room with light to closed shutters that give you more privacy and decrease glare on your monitor.
Home offices that are colder or hotter than other parts of your home aren't comfortable to be in. Polywood shutters moderate the temperature by decreasing the heat that transfers through your windows.
Plantation shutters don't just decrease distractions and maintain the temperature of the room. They give you a home office you want to work in. Plantation shutters have crisp lines that frame your windows, bringing together the room's décor. And these shutters can be installed on every window shape - even rake and circular windows. We carry many styles such as our faux wood Polywood shutters, our wooden Ovation® shutters, and reclaimed wood plantation shutters .
Not only are our shutters beautiful. They're also durable. Polywood shutters will last decades. So no matter how frequently you change your furniture, flooring, or paint colors, you won't need to redo your window treatment. You can spend your time working and not redoing your windows.
Are you looking for a unique look for your home office? Sliding barn door shutters add that special touch to your office. Now you'll want to spend time in your home office all the time. Combine them with our sliding doors for a smooth look. We have a wide array of colors, stains, hardware, and styles to make your barn doors shutters unique to you and your home.
Slide open your barn door shutters if you want outside inspiration. Close your barn door shutters if you want privacy or less brightness.
Whether they're opened or closed, barn door shutters are a masterful work of art that becomes the focal point of your office.
Shades
When you want a softer look in your office, shades are the perfect option. There are many ways to customize your shades to turn your office into a haven. Pick from styles such as Roman shades, cellular shades, woven woods, roller shades, and more. Then pick your colors, patterns, and finial details.
Rooms with hard surfaces such as large windows or wooden floors bounce around a lot of sound. You can dampen the sound in these rooms with fabric shades. This is especially helpful for conference calls in your home office. If you need to block light, simply add privacy or room darkening liners to your shades.
Blinds
If you're a price-conscious homeowner in Raleigh, blinds may appear to be a great home office option. Although blinds let you control the light in your office, they won't be as resilient as plantation shutters. You'll find yourself replacing them if they get damaged. They also don't dampen noise or help regulate the room's temperature. Over the years, they aren't as economical.
There are more choices in blinds today than just the flimsy white plastic blinds that break and turn dingy with time. We offer blinds such as vertical, metal, hardwood, and faux wood blinds to give your home office the exact atmosphere it needs. Upgrade your blinds with motorization and cordless lift systems.
Choose Your Home Office Window Treatments Today
Are you ready to improve your productivity and design the office you love by ordering new window treatments? Call our team of professionals for a free in-home consultation. We'll come with samples of all the home office window treatments we sell in Raleigh right to your house. If you need window treatments for more spaces for your home, we'll present samples of those, too. Give us a ring at 919-887-9198 or fill out the form to schedule your in-home consultation today.